This is an archived article and the information in the article may be outdated. Please look at the time stamp on the story to see when it was last updated.
CHICAGO — A Winter Storm Watch has been issued beginning Friday evening through Saturday morning.
According to the National Weather Service, heavy snow is expected and accumulations of three to seven inches is possible.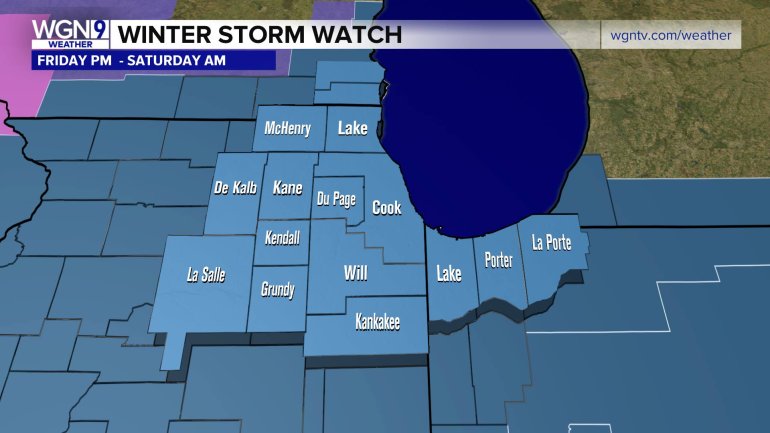 Snow is expected to develop mid to late afternoon Friday and will have some impact on the evening commute. The heaviest downfalls are expected between 8 p.m. Friday and 8 a.m. Saturday, with several inches likely. Saturday night, there will be blowing and drifting snow throughout the day, and some lake effect snow is likely in the evening.
In addition to the heavy snow amounts, gusty winds (30+ mph) will cause considerable blowing and drifting, reducing visibility. If you must head out, plan on dangerous, significantly slowed travel due to ice/snow covered roads.
For Chicago, there's only a two percent chance of snow Thursday night. That likelihood rises to 40 percent Friday, and is 100 percent Friday night, with several inches likely through Saturday morning. There's an 80 percent chance of snow Saturday, and a 50 percent probability of Lake Effect snow htting the area on Sunday.
System snow will exit by midday Saturday, but lake effect snow showers of various intensities will develop in the afternoon and add to snow totals in lakeside counties (i.e. Lake, Cook, portions of eastern Dupage and gradually shift into Northwest Indiana). The lake effect snow is expected to gradually shift into north-central Indiana by Sunday afternoon. 
For the latest weather updates, visit wgntv.com/weather