This is an archived article and the information in the article may be outdated. Please look at the time stamp on the story to see when it was last updated.
Her claim is simple– the story never is…
60-year-old Anne Sullivan spoke Tuesday about her former boss, 49th Ward Alderman Joe Moore.
Her name is out in the public for blowing the whistle Moore and his staff– but she wants to keep her face concealed for fear of harassment and retribution within the ward.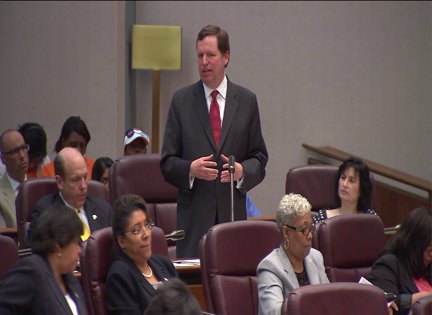 Anne challenged Moore and his staff on the issue in 2009 and more said it was time for her to go.
Sullivan told WGN that Moore was trying to keep her quiet-so he offered her what he called a severance package: three and a half months salary plus benefits to leave his ward office. She was ruffling too many feathers. But she wondered about the severance.
Was it legal? She was right. No such thing exists for city employees.
She says the realization back then gave her a panic attack.
Moore calls the legislative inspector general agrees. His report, released yesterday, accuses the unnamed alderman investigated in this case of theft for paying employees who are not doing any work for the ward.
The alderman may have called it severance. The IG calls it ghost payrolling.
Alderman Moore's office did not return calls Tuesday. But yesterday he called the inspector general's claims baseless– claiming the office had run amok. He also referred to Anne Sullivan his former employee as disgruntled.
To that Anne Sullivan– out of work since 2009— says she's disappointed.  Happy now that her claims are being heard, four years later.
The FBI has interviewed Joe Moore about it.