This is an archived article and the information in the article may be outdated. Please look at the time stamp on the story to see when it was last updated.
Revising a hip joint repair. Joint replacement is becoming more popular for even younger patients, but the fix isn't always permanent. Now, a local doctor tackles a debilitating problem patients face after failed joint replacement.
Karen Lembcke, hip revision patient: "I'm always a walker. I try to do 2 to 4 miles every day."
After having both hips replaced in 2006, Karen Lembcke powered on pain free.
Lembcke: "Everything went well for me for a few years."
Just five years later, one of her implants failed.
Lembcke: "My hip popped out of the socket, but I'm such a warrior I went and worked seven hours that day."
Karen worked through another surgery: a revision on her left hip, but just months later the hip popped out again. After it happened a third time, she turned to orthopedic surgeon Henry Finn for help.
Lembcke: "He knew exactly what the problem was."
Dr. Henry Finn, orthopedic surgeon, Weiss Memorial Hospital: "This is the damaged hip socket."
Karen's problem was bone loss that left her pelvis unstable and loosened her artificial hip. It's called pelvic dissociation.
Dr. Finn: "It's related to hip replacements that have for one reason another had to be redone or revised, we call that a revisional surgery, and with each subsequent revision the bone becomes lost through attrition or through further surgery."
On the left, an original hip replacement; the socket is normal in size. On the right…
Dr. Finn: "Two revisions, it's dislocating and is loose from the bone and is unstable."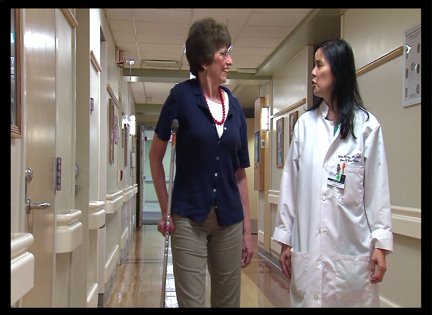 Scans and x-rays yield valuable information, but Dr. Finn wanted an even better pre-op view.
Dr. Finn: "We have developed technology that will produce a pelvis out of plastic just like this but with the exact defects of the problems that exist in the patient. We can use this model to practice the surgery before we go into the operating room."
The practice helps, and so does special hardware.
Dr. Finn: "You can see this black line here; it shows the bone has not grown into the metal."
With diminished bony support, new joint components are less likely to lock in place.
Dr. Finn: "There's multiple screw holes, but the problem is there's not much bone to put screws in. We then put this cage in. This is the cup cage construct: the device that is inside her cup. It's holding it in place and connecting the lower pelvis to the upper pelvis while the bone grows in to this porous metal surface, and she's already forming a new inner pelvis.
Before this, all other methods that we have tried, and I've been doing this for about 28 years, have been very unreliable. I think we finally got it to a point where it's reliable."
Still undergoing therapy, Karen has big plans for her newly revised hip.
Lembcke: "I've had minimal pain. The process has gone well. I'm hoping I can do walking; I want to visit the national parks."
For more information about Dr. Finn, check out http://www.weisshospital.com/medical-services/orthopedics/meet_the_CCO_physicians/CCO_Physicians_Finn.aspx
You can reach Dr Finn at (888) 503-ORTHO – toll free; or (773) 564-5881 – direct.