This is an archived article and the information in the article may be outdated. Please look at the time stamp on the story to see when it was last updated.
CHICAGO – The Chicago mayoral race is already crowded, with 10 candidates officially in the race, and that could increase with Tuesday's announcement from Mayor Rahm Emanuel saying he will not seek re-election.
Next February voters will choose someone new to become the mayor of Chicago. It's a crowded field and speculation abounds that more candidates will jump in. But none of the contenders have huge name recognition or the political cash Emanuel has.
If you're talking name ID, and WGN based this on internal polls, Garry McCarthy, Paul Vallas, Willie Wilson and Lori Lightfoot stand out for now.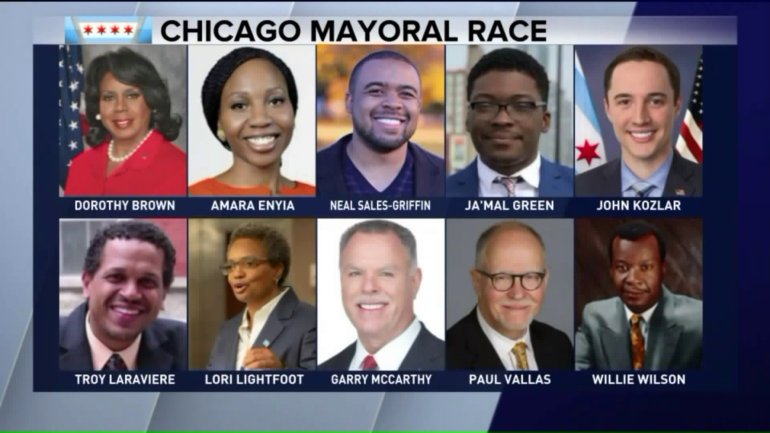 All day long these men and women have been reacting to Emanuel's bombshell news.
"I'm particularly pleased to know that finally Chicago is going to get the new leadership that it deserves. But the problem is problems still exist that we have to address," McCarthy said.
"It's an opportunity for the people of Chicago to pick a candidate for mayor who won't just give lip service to investing in our city," Troy LaRaviere said.
"Now it's time to change the page. This is undeniably big news but it doesn't change what we're fighting for. It doesn't change the needs of people all across this city," Lightfoot said.
"As the only candidate with a successful track record of running multi-billion dole government entities, I'm the only candidate in this race who will be ready from Day 1," Vallas said.
"I continue to be committed to bringing high quality education to all of the children of the city of Chicago," Dorothy Brown said.
Others have issued statements about Emanuel's announcement including former President Barack Obama.
Others might jump in including Jesus "Chuy" Garcia and possibly Valerie Jarrett. Sources say Toni Preckwinkle and Ricardo Munoz are also having conversations about a possible run.
WATCH: Political analyst Paul Lisnek talks what's next after Emanuel announcement