This is an archived article and the information in the article may be outdated. Please look at the time stamp on the story to see when it was last updated.
A discount on well-behaved children at a Calgary, Alberta, restaurant is stirring up controversy among parents.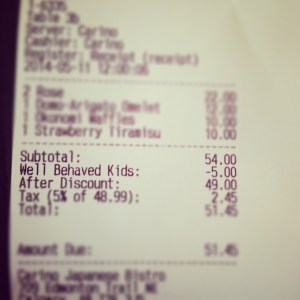 Toshi Karino told the Calgary Sun his restaurant Carino Japanese Bistro started giving discounts a year ago to parents who kept their children well-behaved during the meal. He said he wanted to thank parents for ensuring their children did not disturb other customers.
This decision went viral after parents Alicia Maxim-Welsh and Daley Welsh posted a copy of their bill, with the discount showing as "Well Behaved Kids:  -5.00," to Facebook and Reddit.
Many social media commenters supported the discount, with some arguing that even more should be done to combat disruptive kids, such as a fine for bad behavior. Others say it punishes parents who try to keep their children in line but can't predict their actions, and they point out it is unfair to children with conditions such as autism.
Visit the Calgary Sun for more.