This is an archived article and the information in the article may be outdated. Please look at the time stamp on the story to see when it was last updated.
NASHVILLE, Tenn. — The $2 million bond for accused Waffle House shooter Travis Reinking was revoked by a Tennessee judge Tuesday, court records show.
A bond hearing was set for Wednesday, according to the order signed by state Judge Michael Mondelli in Davidson County, who did not provide an explanation for his decision.
Reinking, 29, was arrested Monday in connection with Sunday's attack with an assault-style rifle at the Nashville-area restaurant.
He was booked on $2 million bond — $500,000 for each of four criminal homicide charges — according to court records.
Authorities on Tuesday still were trying to establish what the suspect did in the 35 hours between the fatal attack and his arrest.
Wearing only a jacket, Reinking allegedly shot and killed two people outside the restaurant in Antioch, Tennessee, then killed two more people inside before a customer wrestled away his gun, police said. Reinking fled the scene naked.
Police swarmed homes and woods near the shooting site, searching for the suspect, who was added to the Tennessee Bureau of Investigation's "Top 10 Most Wanted" list. Someone spotted him emerging from the woods Monday afternoon and phoned 911, Metro Nashville Police said.
It's not clear what Reinking did while he was at large. The motive for the attack isn't known.
'Shocked' and 'disorientated'
Reinking was fully dressed and did not resist when a detective drew a gun on him, Lt. Carlos Lara said, adding that he was carrying a backpack with a firearm, ammunition and a flashlight.
Reinking declined to give a statement and requested a lawyer, Lara said.
It was construction worker Lydia French who dialed 911 after seeing a man fitting Reinking's description, the Tennessean reported.
The man, who'd emerged from the woods near where French was working with her crew, looked "shocked" and "disorientated," she told the newspaper.
French said the man saw her on the phone and went behind Cane Ridge Elementary School.
"When he seen me on the phone, he kept looking real nervous," the Tennessean quoted her as telling reporters soon after Reinking's arrest.
"I've got kids," French said. "I worked out here every day last week with him living right here. All day long, I kept thinking that could've been us," she said.
Nashville public schools had initiated "lockout" procedures while Reinking was on the loose, meaning no guests or visitors could enter public buildings.
Car theft allegation
Police said Reinking visited a car dealership in the Nashville suburb of Brentwood last week and somehow obtained a key fob for a 2018 BMW X6 without providing identification. He stole the car and led police on a brief chase, Brentwood police said.
Using the car's GPS, officers tracked the car to Reinking's apartment complex and recovered it. But they didn't know the thief's identity, and no one was arrested.
Guns taken after arrest near White House
Last summer, the Secret Service arrested Reinking for trespassing near the White House.
He was charged with unlawful entry, but the charges were dismissed after he completed community service. At the FBI's request, Reinking's Illinois firearms authorization was revoked, and four weapons — including the AR-15-style rifle used in Sunday's shooting — were seized.
After the firearms seizure, Reinking was legally barred from possessing guns, Matthew Espenshade, an FBI agent in Nashville, said Monday. Authorities in Tazewell County, Illinois, gave the weapons to Reinking's father, who police believe later returned them to his son.
The father, Jeffrey Reinking, could face charges for transferring weapons to a person knowingly prohibited from possessing them, said Marcus Watson, the ATF's acting special agent in charge in Tennessee.
Reinking's grandmother, Marilyn Hopper, said her grandson "was a sick boy" and she was devastated by news of the attack.
"My heart goes out to those people who have loved ones they've lost," she told CNN affiliate WSMV-TV by phone. "I've lost two children myself, and I know what that feels like. My heart really does go out to them. But you know, we have a side, too."
"I'm just so sorry for those people and their loss, and my heart goes out to them," she said.
BREAKING: Murder suspect Travis Reinking is in custody. Arrested moments ago. pic.twitter.com/WwuDCXDCGQ

— Metro Nashville PD (@MNPDNashville) April 23, 2018
BREAKING: Travis Reinking apprehended moments ago in a wooded area near Old Hickory Blvd & Hobson Pk. pic.twitter.com/00ukga37s6

— Metro Nashville PD (@MNPDNashville) April 23, 2018
Tragedy and heroism
Reinking arrived at the Waffle House in Antioch, part of the metro Nashville area, just before 3:20 a.m. Sunday.
He sat in his pickup truck for 3 1/2 to 4 minutes "just looking at people inside the restaurant," Metro Nashville Police spokesman Don Aaron said.
Then, wearing only a green jacket, the gunman got out with an "assault-type rifle" and fatally shot two people outside the Waffle House, police said.
He continued his rampage inside the restaurant, killing another two people.
The carnage stopped only because of the heroics of a customer, James Shaw Jr., who monitored the gunman's moves from afar and jumped into action when he saw an opportunity.
Shaw "saw the gunman looking at his rifle. At that point, the shots had stopped. So he decided to rush the gunman, actually wrestled that assault rifle away, tossed it over the counter. At that point, the gunman then fled," Aaron said.
Shaw denied that he was a hero, saying his actions were "a selfish act" to save himself.
Shaw has started a GoFundMe account to assist victims of the shooting, a GoFundMe spokeswoman told CNN. Within hours, the $15,000 goal was met, and as of Monday evening, the total stood at more than $53,000.
What we know about the suspect
Reinking is from Morton, Illinois, and police believe he moved to the Nashville area last fall.
He worked in construction but was fired from a job about three weeks ago, police said. Reinking started with another construction company last Monday, but did not show up for work Tuesday.
The 29-year-old has a history of delusions and run-ins with the law.
In May 2016, Reinking had a delusional episode and told first responders that he believed pop star Taylor Swift was stalking him, according to a police report.
Reinking's family also told police he had made comments about killing himself.
Last summer, Reinking was arrested by the Secret Service for trespassing near the White House.
Reinking said he wanted to meet with US President Donald Trump and told a Secret Service officer at the northeast entrance that he was a "sovereign citizen" who had a "right to inspect the grounds," according to a Metropolitan Police Department incident report dated July 7, 2017.
He was charged with unlawful entry, an arrest report states, but the charges were dismissed after he completed community service.
At the FBI's request, Reinking's Illinois firearms authorization was revoked, and four weapons — including the AR-15 style rifle used in Sunday's shooting — were seized.
Authorities in Tazewell County, Illinois, later returned the seized weapons to Reinking's father. Police said the father gave later gave them back to his son.
Shortly after the shooting Sunday, Reinking fled the scene completely naked, police said. They suspect he went to his apartment, put on a pair of pants and may have escaped into the woods.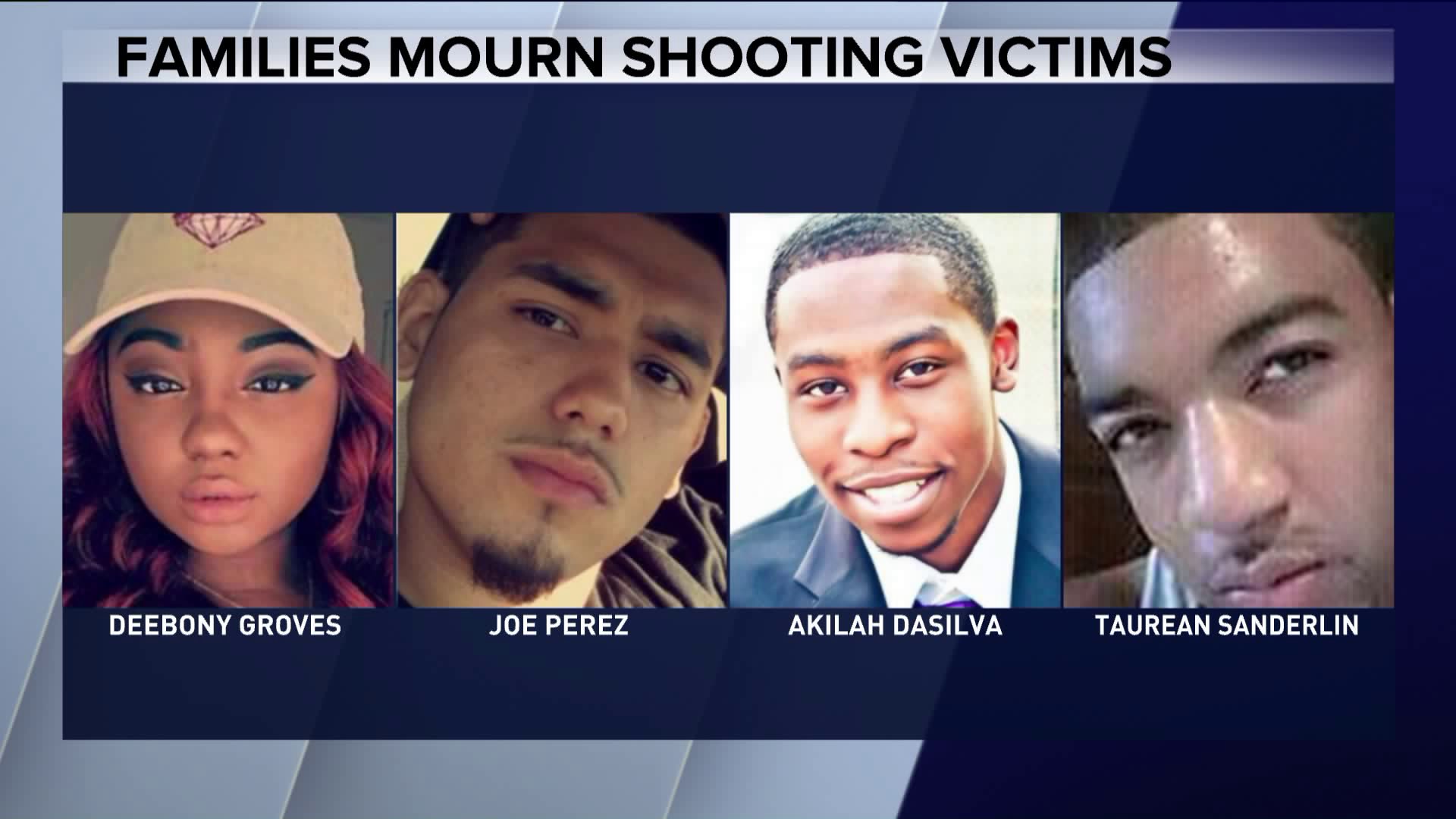 The lives lost
The four people killed were all under 30 years old.
Two of them were fatally shot outside the restaurant: Waffle House employee Taurean C. Sanderlin, 29, of nearby Goodlettsville, and customer Joe R. Perez, 20, of Nashville.
Inside, the gunman killed two more people: 23-year-old Akilah Dasilva of Antioch and 21-year-old DeEbony Groves of nearby Gallatin.
DaSilva's cousin said the world lost a talented young man who excelled in computer science and music.
"He was a genius. He was super smart. Smarter than me," Kareem DaSilva said.
"One of the things I liked about him is that he was a hard worker. He never gave up, and he was quick to learn. He was very impressive."