This is an archived article and the information in the article may be outdated. Please look at the time stamp on the story to see when it was last updated.
Warning: The video in the player above may be considered graphic to some viewers.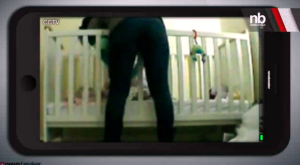 A couple in the UK was shocked to discover what a hidden camera had recorded in their infant son's room.
The camera, which the couple says was only installed as a precaution, captured video of the couple's nanny picking up their 18-month-old son Olly and throwing him down on the crib. The video shows the nanny also smacking him hard on the bottom three times.
According to the Daily Mail, the parents took the video to the police and they charged the nanny with cruelty to a person under 16 years. The Daily Mail article did not reveal the nanny's identity.
When the case went to court, the jury returned a not guilty verdict.
Now, Olly's parents, Rowena and Jack Churchland, are waiting to hear if their request for a review of the case will be granted.
Click here to read the full story from The Daily Mail.