This is an archived article and the information in the article may be outdated. Please look at the time stamp on the story to see when it was last updated.
CHICAGO — According to police, a multi-vehicle crash in the South Loop Saturday was caused by a driver's medical emergency. One person was killed in the crash, and 11 others were injured. The victim killed in the crash has been identified.
Darius Sconiers, 35, was pronounced dead at Stroger Hospital after a nine-vehicle crash around 4:20 p.m. Saturday at the intersection of Wells and Congress.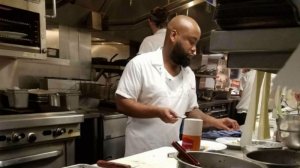 Sconiers was originally from Maywood, Ill., and his family said he was the life of the party.
His most recent job was as a celebrity chef for a Chicago Bulls player.
"Unbelievable. Unbelievable. That's the word that keeps playing in my mind," William Lockhart, his brother, said.
His family is having a hard time digesting the news that their family member is gone.
Illinois State Police said Sconiers was stopped at the light, when the driver of a white Mercedes, 56-year-old Scott Ganassin, plowed into the back of his car going full speed.
Troopers said the driver of the Mercedes was having a medical emergency behind the wheel—just as he was getting off the eastbound Eisenhower Expressway.
Sconiers was trapped in his grey Cadillac truck and had to be extricated.
Eleven other people were injured and eleven others refused transport to the hospitals.
Investigators said the driver of the Mercedes hit several other cars, and could not regain control of his vehicle, causing a chain reaction crash.
The fire department said seven people were in serious condition.
Ganassin was cited for "failure to reduce speed to avoid a collision."