This is an archived article and the information in the article may be outdated. Please look at the time stamp on the story to see when it was last updated.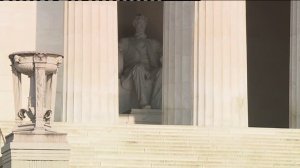 The Lincoln Memorial was vandalized overnight and will remain closed until it is cleaned up, U.S. Park Police Capt. Steven Booker told CNN Friday.
Police were alerted to the scene just before 1:30 a.m. and found green paint splattered on the leg and base of the statue, he said. There were no discernible letters or markings.
Park Police will review the security camera video for evidence, Booker said.
TM & © 2013 Cable News Network, Inc., a Time Warner Company. All rights reserved.