This is an archived article and the information in the article may be outdated. Please look at the time stamp on the story to see when it was last updated.
Police in San Francisco are trying to track down some vandals involved in a city-version of "cow tipping."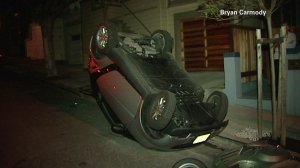 Instead of tipping over cows, the vandals are flipping over "Smart cars."
The cars weigh about 16-hundred pounds, and are relatively easy to tip.
Surveillance video caught several men tipping one of the cars.
According to police, the activity is considered felony vandalism.