This is an archived article and the information in the article may be outdated. Please look at the time stamp on the story to see when it was last updated.
By Shannon Ryan, Chicago Tribune reporter
ARLINGTON, Texas — Only nine minutes remained in the NCAA tournament championship when guard Ryan Boatright rolled his ankle.
His mother, Tanesha, watching from the AT&T Stadium stands, knew her son wouldn't budge. That's not how the Boatrights, from Aurora, operate. Apparently, not Connecticut either.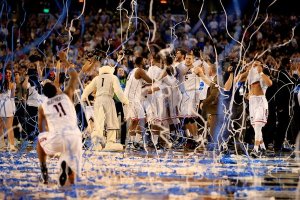 "I was screaming at him, 'Be tough,' " she said, pausing to sob as her son cut down nets. "My family was asking me, 'Is he going to keep going?' I knew he was going to keep going."
Said Boatright of his ankle: "It was hurting. But we worked too hard. We put in too much work. I wasn't going to let a little ankle sprain keep me from fighting for my brothers."
The No. 7-seeded Huskies proved themselves to be nothing but ever-marching survivors in the 60-54 victory against No. 8 seed Kentucky, bringing a fourth title to Storrs, Conn.
Just a season ago, the Huskies were banned from postseason play as a punishment for low academic scores. Instead of transferring before the season, the group of Huskies banded together.
Two seasons ago, legendary coach Jim Calhoun retired and former assistant Kevin Ollie took over.
This season, they lost to Louisville by 33 points, finished third in the American Athletic Conference and nearly were bounced in the first tournament game by St. Joseph's.
Connecticut players view the victory as validation for sitting out of the tournament last season as fires burned inside them. Senior guard Shabazz Napier predicted the championship run after the March loss to Louisville.
"We're hungry," said Napier, who scored 22 points. "When you prevent us from trying to go to the postseason and it wasn't our fault, we worked from that (point) on."
Boatright, an East Aurora graduate, added 14 points on 5-of-6 shooting with four rebounds, three assists and three steals.
The duo again was smothering on defense against Kentucky, which was playing for its second title in three seasons.
"One of our things was sprint it up the court so you attack (Boatright) and he's not attacking you," Kentucky coach John Calipari said. "We jogged."
The Wildcats also whiffed on their free throws, making only 13 of 24. Connecticut made all 10 of its attempts from the line.
"The way we started the game probably cost us the game," Calipari said. "Why do you think (we) started that way? They're all freshmen. They're scared to death again."
That never bothered the Wildcats before. They came back from deficits in every tournament game to advance to the championship, winning the previous three games on late 3-pointers by Aaron Harrison.
They fell behind by 15 points in the first half against Connecticut, the most they had trailed in a tournament game. The Huskies never trailed, although Kentucky made several runs to draw to within a point.
Forward James Young led Kentucky with 20 points, while Julius Randle added 10 points. Randle left the game for stretches in the first half with what appeared to be cramps.
Most of the 79,238 fans waited for the Wildcats to make their move.
They trailed by six points with 2:24 remaining. Kentucky missed two more free throws down the stretch and a layup by Napier with 1:33 left provided a buffer for UConn.