This is an archived article and the information in the article may be outdated. Please look at the time stamp on the story to see when it was last updated.
CHICAGO — Two men from north suburban Chicago were arrested Wednesday under federal charges that they conspired to provide material support to the Islamic State (ISIS).
Both 35-year-old Joseph D. Jones and 35-year-old Edward Schimenti, both of Zion, are charged with conspiring to knowingly attempt to provide material support and resources to ISIS, according to a release from the U.S. Attorney's Office in Illinois.
In the complaint filed in federal court, U.S. Attorney Joel Levin alleges Jones and Schimenti pledged allegiance to ISIS and "advocated on social media for violent extremism in support of the terrorist group." Multiple federal, state, and local law enforcement agencies were involved in the investigation, including undercover FBI employees who befriended the pair while posing as fellow ISIS devotees.
Officials say they eventually provided several cellphones to an FBI source, "believing they would be used to detonate explosive devices in ISIS attacks." The complaint also alleges they drove the source to O'Hare Airport on April 7 "with the understanding that the source would be traveling to Syria to fight with ISIS."
Photographs obtained by the FBI purport to show Jones – also known as Yusuf Abdulhaqq and Schimento – aka Abdul Wali – holding the ISIS flag while standing in front of the sign for Illinois Beach State Park in Zion.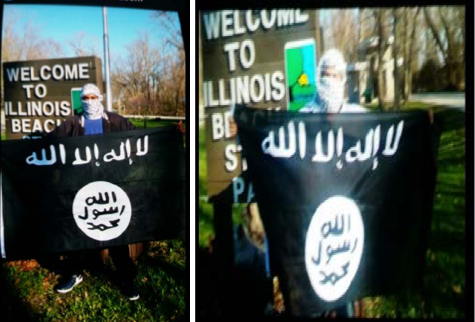 The government also says in 2015 Jones posted what's described as a "Traveler's Guide" for foreigners who want to go to the Middle East and join the Islamic State.
The complaint alleges Schimenti posted on Twitter: "unbelievers, we are coming to slay you." Later, on an account believed to be Schimenti's, he posted: "currently my life is under federal scrutiny due to false accusations of terrorism. Only because I'm muslim i've been targeted and humiliated.
Federal agents are executing a search warrant at one of their homes in Zion right now.
Both are scheduled to make a preliminary appearance in Federal court Wednesday at 3 p.m. They are facing charges punishable by up to 20 years in prison, according to the U.S. Attorney's Office.
See the whole criminal complaint in the link below.