This is an archived article and the information in the article may be outdated. Please look at the time stamp on the story to see when it was last updated.
WHEATON, Ill. — Tuesday was day one in the trial of a Naperville woman accused of fatally stabbing her 7-year-old son, a 5-year-old girl she was babysitting and two family dogs.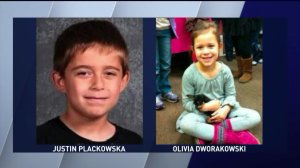 Elzbieta Plackowska, 45, has been in custody for almost five years for the 2012 murders.
Plachowska admitted to the murders, but the trial is to determine if she was insane when she did it on October 30, 2012.
DuPage county prosecutors said she killed the kids and the children's two dogs because she was angry and felt unappreciated. They say she told doctors she was "so tired of this life."
She also told doctors that she saw the devil who told her to kill. She had stabbed the boy 173 times.
Defense attorneys said she was on the manic end of a bipolar episode that was triggered by the death of her father a few weeks earlier.
In court Tuesday, she sat in the room, her hair brown now, and, with her hands in her face. She occasionally cried.
The first witness for the prosecution was Marta Dworakowski, Olivia's mother, who came home that night from work as a nurse, to find her front door locked from the inside.
She tried frantically to get in touch with her babysitter, Plachowska, went to her home and then called police when no one answered.
Police found the bloody scene at Dworakowski's home which was described by lead prosecutor state's attorney Bob Berlin as a scene of unimaginable horror.
Judge Robert Miller will hear lots of expert testimony from doctors and then decide if Plachowska will spend the rest of her life in prison or a mental institution.
Prosecutors said Plackowska killed her son to get back at her at husband, a trucker who spent time traveling away from home.
The trial is expected to last about two weeks.