This is an archived article and the information in the article may be outdated. Please look at the time stamp on the story to see when it was last updated.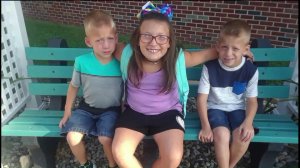 FULTON COUNTY, Ind. — A woman stands trial Tuesday for killing three children as they crossed a northern Indiana road to board a school bus.
Alyssa Shepherd was driving a pickup truck before dawn Oct. 30, 2018 when she struck four children who were crossing a two-lane road to board a Tippecanoe Valley School Corp. bus near Rochester.
Six-year-old twin brothers Xzavier and Mason Ingle, and their 9-year-old sister, Alivia Stahl, were killed. Maverik Lowe, 11, survived the accident but was seriously injured.
Shepherd told police she saw red lights flashing, but didn't realize it was a school bus until the kids were in front of her.
She is charged with reckless homicide and passing a school bus, authorities said.
If convicted, Shepherd faces a maximum sentence of 21 and a half years in prison.