This is an archived article and the information in the article may be outdated. Please look at the time stamp on the story to see when it was last updated.
CHICAGO — It's officially summertime in Chicago, and families are flocking outside for fun. As much fun as the outdoors can bring, it's important to remember some of the dangers that come with it.
WGN News spoke with Amy Hill, associate director of the Injury Prevention and Research Center at Lurie Children's Hospital, for tips and advice on making it a fun and safer summer.
1. Open Windows
Warmer weather means warmer homes, which mean more open windows.  Amy suggests for a family with any child 6 and under, a opening of no more than 4 inches on any window that opens from the bottom.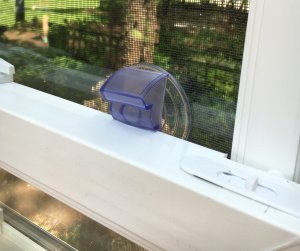 "Screens are designed to keep bugs out, not kids in," she says. "When there's a story of a child falling out of a window, people often think of it happening in high-rises. But it can happen in two- or three-story  buildings or even an elevated first floor."
Amy also says to make sure any furniture — such as beds or chairs or couches — is moved away from the window.
Lurie Children's provides the safety feature "window steps," which prevents the window from opening any further, free of charge.  They do not require any tools to be installed.
2. Hot Cars
Hotter days also bring with them the add risk of a tragedy of a child left in a hot car.
"We usually see this happening if there's a change in routine in the household," Amy says.  "A parent that normally does not drop the child off at day care is now doing  it, or a different route to work, a change in routine can lead to this."
Amy says many day cares provide a pledge parents can sign that says the day care will call them if the child is not dropped off by a certain time.  Check with your child's day care to see if this option is available.
Also, if you see a child in a hot car, you should call 911, Amy says.
3. Busy, Sunny Playgrounds
Playgrounds are a hot bed of action in the summer months — and can also be just a hot bed.
Be sure to check the temperature of playground equipment and surfaces.  "A child can experience a second-degree burn if the surfaces is too hot," Amy says.  "And it's not necessarily the sun that can make equipment hot. But it's also the heat of the day, even if the sun is not out."
An overall check of the playground is also recommended.  "Check for glass, garbage, the condition of the equipment," Amy says.  "As well as the ground.  The vast majority of playground injuries are falls.  Concrete surfaces or grass or packed dirt can make it more dangerous.  Look for playgrounds with have a depth of woodchips that are 12 inches deep or rubber surfaces."
4. Bikes
The start of summer is also a good time to refresh bike helmet safety and make sure last year's helmet still fits.  Or in some cases, buy one in the first place.
"Wearing a helmet reduces the chance of traumatic brain injury by 85 percent," Amy says.  "But only 45 percent of children wear them regularly."
Amy advises that a helmet should be worn during any wheeled sports -- that includes scooters and tricycles.
But wearing it is only a good start.  Making sure the helmet is on correctly and fits correctly is key.
"You want to remember: Eyes, Ears, Mouth," Amy says.
The helmet should protect the forehead enough so that when your eyes look up, you see it.  Amy says to use the Two Finger Rule. "You should have the space of two fingers between the eyes and the helmet."
Next, the straps should form a V around the ears.
Then, have you child stretch their mouth to a yawn.  "You want it to fit snug when they yawn," Amy says.
RELATED: 6 tips for a safer summer on (and near) the water
For more information and safety tips, log on to Lurie Children's Hospital's website.
Lurie Children's injury prevention initiatives are supported by The Kohl's Cares®, which donates money to more than 160 hospitals nationwide to promote children's health initiatives.