This is an archived article and the information in the article may be outdated. Please look at the time stamp on the story to see when it was last updated.
CHICAGO – Some people see couches as a place to sit – but others see a canvas waiting to be filled with something other than backsides.
One such artist sketched a portrait of a Chicago police officer on his couch that quickly went viral after it was posted online.
Dave, the artist behind the portrait, said the officer depicted in the drawing is his cousin and a 13-year CPD veteran. He said was inspired by his cousin's longtime service in a busy South Side district.
"Every day he leaves his house and leaves his young family behind and goes into one of the toughest districts in the city," he said. "He does it with little to no thanks."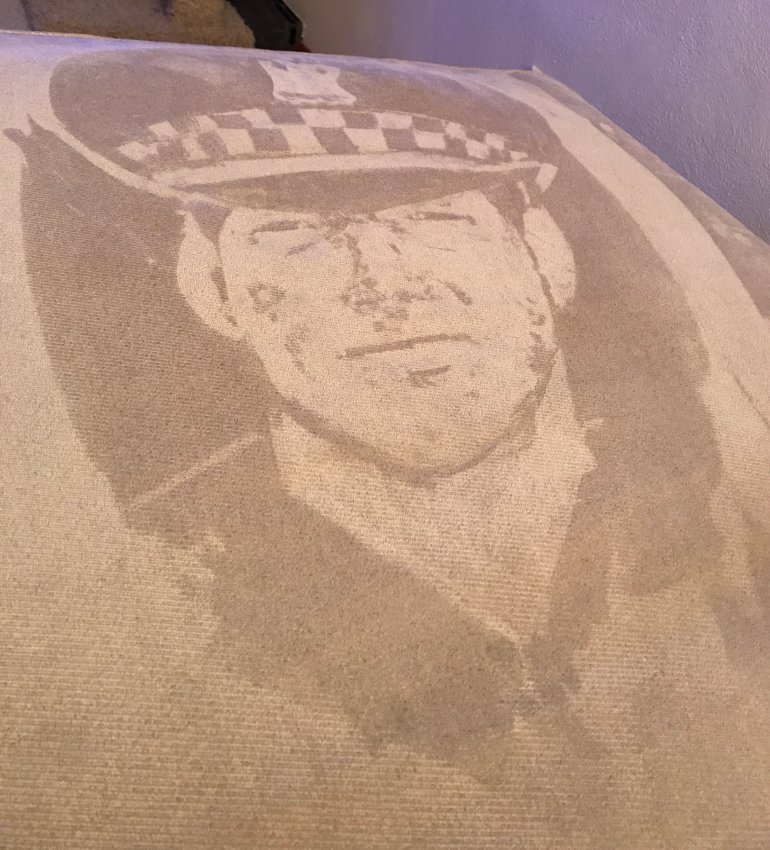 A onetime Chicago resident who now lives in Urbana, Ill., Dave said he's gotten a mixture of praise and harsh messages in response to the post. He requested we withhold his last name so he could remain (relatively) anonymous in light of some of the negative responses.
"I didn't try and evoke any type of response out of people by saying something controversial," he said. "It's like people can't just look at something and just think something positive."
After studying art in college with the hopes of becoming an animator, Dave said he wasn't drawing much anymore when he stumbled onto the idea of drawing on his micro-suede couch two weeks ago.
"I was talking on my phone and looking at the cool pattern it was making if you go up one way and down the other way," he said.
While brushing the fabric up and down seems to switch it from light to dark, Dave said it only seems to work at night and with very specific lighting. He tried a spherical doodle that was well-received by friends and other people online.
See the process of making a couch doodle in the slideshow below
Then last week while he was watching TV, Dave said he was inspired to attempt a portrait of President Trump based on his White House photo. The result went viral after he posted it to reddit.
Then prompted by responses from friends and others online, Dave said he decided to attempt a portrait of his cousin first "as a joke." But as the familiar face took shape, he said it became something else.
"It was really moving for me," he said.
As to whether there's a future in couch art, Dave said it could be interesting to do more portraits, but he would probably have to do them somewhere else than on his family's couch at home.
"My wife would probably leave me," he joked.