This is an archived article and the information in the article may be outdated. Please look at the time stamp on the story to see when it was last updated.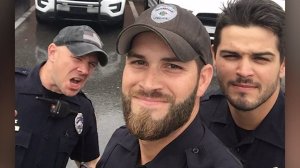 GAINESVILLE, Fl. — A Florida policeman who shot to fame as one of the internet's "hot cops" is now suspended with pay.
Gainesville officer Michael Hamill, seen in the middle of this photo, allegedly posted two anti-Semitic remarks on his Facebook page.
His Facebook has since been taken down.
The police department says it's investigating after several citizens brought complaints against him .
Earlier this week, this selfie of Hamill and two other officers drew admirers for their rescue work during Hurricane Irma.