This is an archived article and the information in the article may be outdated. Please look at the time stamp on the story to see when it was last updated.
It was one of the biggest moments in history; the Apollo 11 mission of 1969 brought man to the moon. There were also a few things that came back with the astronauts.
While there, Neil Armstrong collected some moon dust and placed it in a bag. Turns out NASA forgot about the bag over time and accidentally auctioned it off with other space related objects for a little less than a thousand dollars.
Nancy Lee Carlson, a Chicago area attorney, bought the bag at an auction. She was certain there was real moon dust inside, so after she bought it for just over $900, she sent it back to NASA for testing.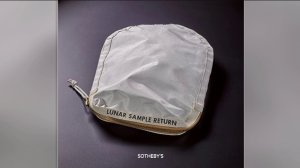 NASA confirmed it was real moon dust and refused to give it back, saying they made a mistake.
Carlson went to court over the matter and won. And now she is auctioning off the moon dust, where it's expected to bring in about $4 million.
Carlson says she'll donate some of the money to scientific research.