This is an archived article and the information in the article may be outdated. Please look at the time stamp on the story to see when it was last updated.
TEXAS — Ten years after Hurricane Katrina hit New Orleans, an Air Force veteran is now trying to track down a girl who left a lasting impression on him in the storm's aftermath.
According to the Air Force Times, Staff Sgt. Michael Maroney, of Texas, is asking for help in finding the young girl, with whom he took an iconic photo as he hoisted her from the flooded ruins of her New Orleans home during a rescue mission.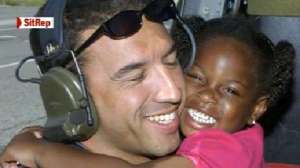 The 2005 picture showed a little girl in pigtails and pink shirt hugging the pararescueman.
Maroney never caught the young girl's name, but the girl had a lasting impact — despite the chaos and tragedy around him.
"If I never do anything else again, that hug and that smile made it all worthwhile," he told the Air Force Times.
Around 2010, he even sent a letter to Oprah Winfrey asking for Winfrey's help in reuniting the two — but he never heard back, according to the Air Force Times.
He has tried on his own since then.
Maroney posted a video to YouTube earlier this month recounting his story.
FOX8 reports the hashtag #FindKatrinaKid has taken off on social media and the photo has been shared thousands of times across the Internet.
According to The Air Force Times, Maroney is now a civilian pararescue instructor. He reportedly left active duty in 2006 and has spent the last eight years in the Air Force Reserve.