This is an archived article and the information in the article may be outdated. Please look at the time stamp on the story to see when it was last updated.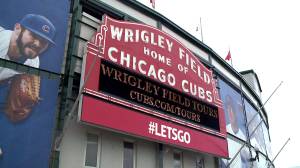 CHICAGO — The Toyota logo will now adorn the lower panel of Wrigley Field's classic "Home of the Chicago Cubs" marquee.
The new emblem is one of the many facets of a newly expanded deal that made the Japanese car company one of the Cubs' top "legacy partner" sponsors.
Toyota will also become the team's official vehicle partner, post a variety of other signage around the field, continue sponsorship of in-game manager challenges and umpire reviews and receive branding rights to all Wrigley Field parking lots for the 2016 season, the Cubs said in a statement.
"Toyota is a valued partner who has proudly supported the Chicago Cubs since our family's first season with the team, and we're honored to introduce them as a Legacy Partner today," said Cubs Chairman Tom Ricketts.
Normally, making changes to Wrigley's marquee would require approval by the Commission on Chicago Landmarks because the sign is one of the features protected by the park's landmark designation, according to Crain's Chicago Business. However, the lower panel, which has a long history of displaying decals of corporate sponsors and team initiatives, is not governed by the Commission.
The marquee's lower panel featured the Budweiser slogan in the early 1980's when the LED sign was added, and an Allstate logo during a Northwestern-Illinois football game in 2010.
Recently, the team added "Celebrating 100 Years" below the marquee to mark the field's centennial anniversary, and this season "#LetsGo" adorned the lower panel.