This is an archived article and the information in the article may be outdated. Please look at the time stamp on the story to see when it was last updated.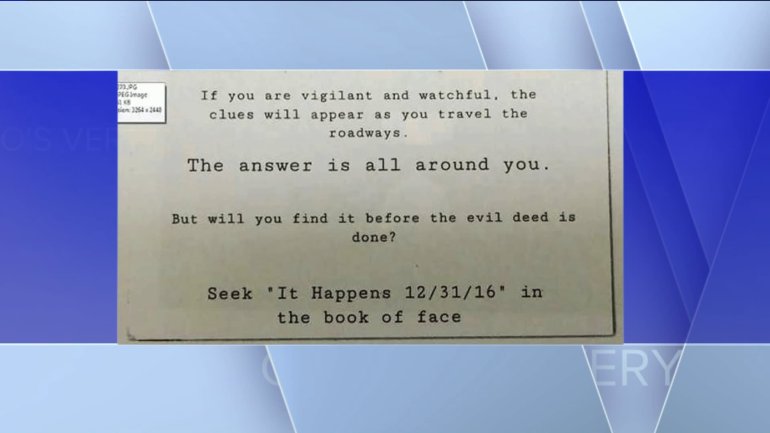 AURORA, Ill. – Police in the Aurora area are investigating after residents reported finding  "threatening and eerie" cards in doorways on Sunday.
The cards are typed and say:
 The answer is all around you. But will you find it before the evil deed is done?
December 31st is also listed on the cards with ominous implications.
Police tell the Chicago Tribune "hundreds" of the black and white cards were found.  They were put in doorways in the area and also on parked cars at the Fox Valley Mall .  They were also found outside two churches in West Chicago.
Police tell the Tribune, the cards were apparently placed there during church services. The Tribune reports those cards had additional messages and said "something terrible is going to happen in Aurora 12/31/16. The wise will find the truth and act before it is too late," "If you are vigilant and watchful the clues will appear as you travel the roadways," and "seek it happens 12/31/16 in the book of face."
A Facebook page that mirrored the language on the cards and signs — but did not offer further specifics on what terrible thing would supposedly happen — has apparently since been taken down, police tell the Tribune.
Anyone with any information is asked to call police.