This is an archived article and the information in the article may be outdated. Please look at the time stamp on the story to see when it was last updated.
Close to 30 people people were arrested during several disturbances along Chicago's Magnificent Mile, and on board a CTA train, Saturday night.
At least 50 teenagers were gathered outside the McDonald's at Chicago and State prompting a large police response, just before 8pm. Heavy police presence could also be seen at Huron and Michigan, Superior and State, and several surrounding blocks.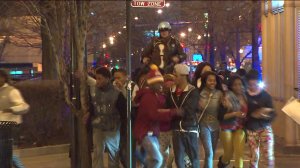 Police said the suspects intentionally bumped into other people on the sidewalks, and fought amongst themselves. 17 of those arrested were charged with misdemeanor reckless conduct.
All but two were juveniles.
Police said there were no reported robberies, assaults or property damage related to the incident.
But witnesses did recall that a man suffered a broken nose when he was attacked by four teens near Dearborn Street and Chicago Avenue.
In a separate incident, police arrested 11 teenagers at CTA's State and Lake station around 6:30 p.m. Saturday.
Police said the group attacked two women in a train car, and ran off with one of the women's belongings. Officers arrested the teens when they tried to leave the station.
The two women were treated at the scene and released.