This is an archived article and the information in the article may be outdated. Please look at the time stamp on the story to see when it was last updated.
[protected-iframe id="85aaa3599ff6a5a8105a112697ff32a3-41641997-42458703″ info="http://player.ooyala.com/iframe.js#pbid=55ce3a06495346ddb20768902d1e991c&ec=lkZHcybjree62XMLsthPqIZzLb5u_elY" width="770px" height="434px"]
A Virginia teen pleaded guilty Wednesday to killing his parents just before Christmas last year because of punishments like "taking away my iPod.
According to WTKR, 16-year-old Vincent Tyrell Parker told investigations "I just remember getting mad … It's all from my dad. All this stuff like my dad taking away my iPod and stuff."
Vincent pleaded guilty to two counts of second-degree murder in adult court.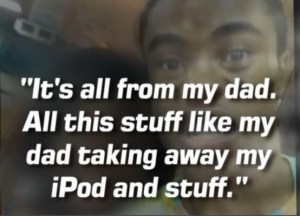 Autopsy reports show on Dec. 19, Vincent armed himself with eight kitchen knives, an aluminum bat and a crowbar and went upstairs to find his mother. Vincent stabbed her repeatedly in the face and neck, and beat her in the head so severely the medical examiner identified 25 separate wounds. She died on the floor near her bed.
Records reveal that Vincent then went downstairs to wait for his father to come home. According to an officer's report, Vincent first hit his father with the crowbar and then stabbed him in the chest and back. Vincent then left the house and the father was able to call 911. He told the first officers his son attacked him and killed his wife. Wayne Parker died later that night.
-CNN contributed to this report
TM & © 2014 Cable News Network, Inc., a Time Warner Company. All rights reserved.