This is an archived article and the information in the article may be outdated. Please look at the time stamp on the story to see when it was last updated.
MELROSE PARK, Ill. — Search teams took off from the parking lot at the sight of the Des Plaines river without any indication as to why they were leaving. There was a lot of sunlight still left in the day on Sunday.
The family of 16-year-old Cameron Sanders is frustrated and wants answers.
Cameron jumped with his friends from a railroad bridge into the river Saturday afternoon. His two friends resurfaced, but he never did. The bridge is a popular place for people to hangout, but Sanders' family told WGN that he could not swim.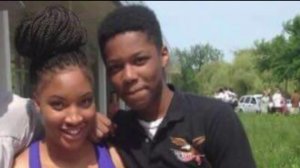 His family also said that someone might have shot video of him jumping from the bridge, but they have not yet seen it. They are extremely frustrated with emergency workers, even going down to the river themselves after rescue teams took off without giving them any reason why.
"We would like the police and other organizations to do as much as possible to help the parents get to the conclusion of this and they're not getting any cooperation," said Mary Morgan, a family friend.
Meanwhile, a number of different organizations are at the scene, including the Melrose Park police, Illinois State police and forest preserve officers, but none of them are able to say they are the lead on the investigation.