This is an archived article and the information in the article may be outdated. Please look at the time stamp on the story to see when it was last updated.
Tripping and falling at your graduation ceremony is a common fear for students.  But to attempt a back flip and fall on your face is on a whole other level.
But a student at Davenport University tried to do just that.
According to Fox 8 in North Carolina, the student, Robert Jeffrey Blank, celebrated his new diploma with a backflip just after crossing the stage and shaking hand with university president Richard Pappas.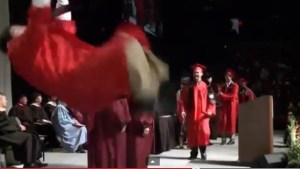 And he just didn't stick the landing.
The whole thing – and the crowd's priceless reaction – was caught on tape.