This is an archived article and the information in the article may be outdated. Please look at the time stamp on the story to see when it was last updated.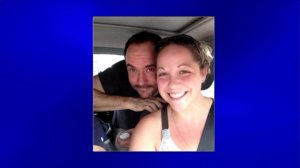 The Dave Matthews Band played as scheduled in Pennsylvania Saturday night, but the whole show was nearly scuttled by some "Busted Stuff," namely the lead singer's bike.
Matthews was riding near Hershey Park in Central Pennsylvania when he got a flat tire and had no cell phone with him.
Enter Emily Kraus and her boyfriend who were on their way to the concert when they spotted the disabled bike and rider. Emily happened to have a bike rack on the back of her car, so they loaded up Matthews' wheels and drove him to the concert venue.
Matthews thanked them with a dinner invite, backstage passes and front row tickets which he signed "thanks for the ride." He also mentioned the rescue on stage during the show.
"Busted Stuff" was the title of the band's fifth album, released in 2002.