This is an archived article and the information in the article may be outdated. Please look at the time stamp on the story to see when it was last updated.
By Michael Pearson and Dave Alsup, CNN
Severe thunderstorms may roar across the southeastern United States again on Wednesday, bringing with them a slight risk of hail, damaging winds and tornadoes.
About 37 million people are at risk in places like Jacksonville, Florida; Charlotte, North Carolina; Virginia Beach; Raleigh, North Carolina; and Atlanta, the National Weather Service said.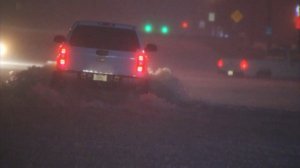 Heavy rain will be the norm.
In Escambia County, Florida, officials issued a state of emergency after 9 inches of rain.
Rescue crews scrambled to reach stranded motorists, and a search was under way for a missing driver who'd called for emergency help, said Bill Pearson of the county emergency management.
He asked drivers to stay off the roads for the next 24 hours.
The Florida Highway Patrol reported one weather-related drowning.
County schools will be closed Wednesday, he said, as well as Interstate 10 and Highway 29.
By Tuesday night, much of the fear of severe storms that could produce large tornado tracks in the eastern half of the United States, from Mississippi to New York, dissipated after the National Weather Service's Storm Prediction Center downgraded the threat.
Some storm risks remain, including the possibility of large hail, damaging winds and flash flooding in portions of the South and East Coast, forecasters said.
Tens of thousands were without power in the South, where suspected tornadoes tore through homes and businesses late Monday. At least 17 people were killed in Mississippi, Alabama and Tennessee on Monday. Those deaths are in addition to 18 others reported in Arkansas, Oklahoma and Iowa from storms Sunday.
Search and rescue efforts were still under way in Louisville, Mississippi, about 90 miles northeast of Jackson, where a tornado the day before flattened a day care center, said Robert Latham of the Mississippi Emergency Management Agency.
Mississippi Gov. Phil Bryant said the twisters inflicted "severe damage" in Louisville. Winston Medical Center, Louisville's major hospital, was also among the buildings hit.
Meanwhile, the storm that walloped Mississippi and Alabama overnight was making its way through parts of Florida, Georgia and the Carolinas, according to the Storm Prediction Center.
CNN's Wolf Blitzer, Martin Savidge, Ed Payne, Chad Myers, Tina Burnside and Jill Martin contributed to this report.
TM & © 2013 Cable News Network, Inc., a Time Warner Company. All rights reserved.