This is an archived article and the information in the article may be outdated. Please look at the time stamp on the story to see when it was last updated.
At least nine vehicles were set on fire on the city's South Side.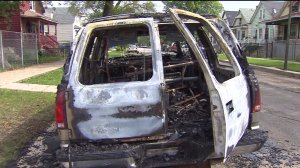 Sources say the number of torched vehicles could be as high as 18 once the investigation is complete.
Police say all of the fires were started between 4:30 a.m. and 7 a.m. throughout various parts of Englewood.
One car was even torched while investigators were a block away investigating another fire.
It's still very early in the investigation. No one is in custody.
But police say all of these fire are, of course, suspicious.
Written by Max Tarlton | Midday News Writer