This is an archived article and the information in the article may be outdated. Please look at the time stamp on the story to see when it was last updated.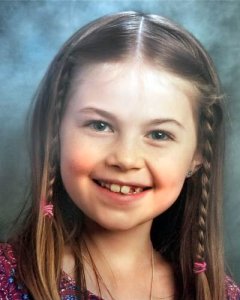 SOUTH ELGIN, Ill. — A South Elgin man is asking the public for help to find his daughter who was abducted one year ago.
Ryan Iserka is asking the public to help find 10-year-old Kayla Unbehaun who was kidnapped by her mother last year on July 5. Heather Unbehaun took the girl camping then dropped out of sight. A felony warrant for kidnapping was issued for Heather Unbehaun on July 29, 2017.
Police said she has ties to Athens, Ga., and may be hiding there. In a press release, the National Center for Missing & Exploited Children said Heather Unbehaun has not used any social media since she went missing. Prior to her going missing, she said she wanted to live off-the-grid and a have a more "carefree" lifestyle. According to law enforcement, the car Unbehaun was driving was sold last fall, the NCMEC said.
Kayla is 4 feet 4 inches tall and weighs about 60 pounds. She has sandy brown hair and blue eyes. Her mother is 5 feet 3 inches tall and weighs 135 pounds. She has blonde hair and blue eyes.
Her dad said he wants Kayla home so "she can grow up and have a life with everyone who loves her."
If anyone has seen or has information about Kayla and Heather Unbehaun, they are asked to contact the National Center for Missing & Exploited Children at 1-800-THE-LOST (1-800-843-5678) or the South Elgin Police Department at 630-232-4739.
Kayla's story is featured on NCMEC's social media pages on YouTube, Facebook and Twitter.