This is an archived article and the information in the article may be outdated. Please look at the time stamp on the story to see when it was last updated.
CHICAGO —  As a cold front pushes east of the Chicago area carrying a band of snow with it, winds will become northwest gusting in excess of 35 miles per hours blowing and drifting the 2 to 3-inches of dry snow that has fallen over the area during the past 12 hours. Travel will be slowed by the slippery and treacherous conditions. In addition, temperatures will be falling as the leading edge of cold high pressure builds into our area, dropping wind chills into the -5 to 15-degree range.Check the current temperature, wind chill and visibility maps below for latest metro-area conditions.
A look at the highlighted map above showers WinterStorm Warnings (pink-shaded area)/Advisories (blue-shaded areas) to our east in western Lower Michigan and Indiana respectively where driving conditions will be extremely hazardous today. The northwest flow over Lake Michigan will continue lake-effect snow showers with additional 2 to 4-inch accumulations in Lower Michigan while the cold frontal snow will add another 1-3-inches of snow in Indiana. Back to the northwest, Wind Chill Advisories (light-blue-shaded areas)  for wind chills 25 to 30-degrees below will be in effect over portions of Minnesota, Wisconsin, Iowa and the Dakotas.
Current Wind Chill/"Feels-like" temperatures…
Current Temperatures…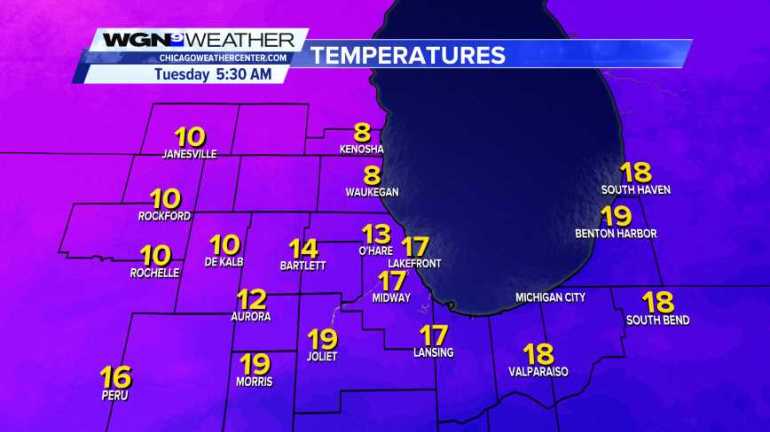 Current Visibility (tenths of a mile)…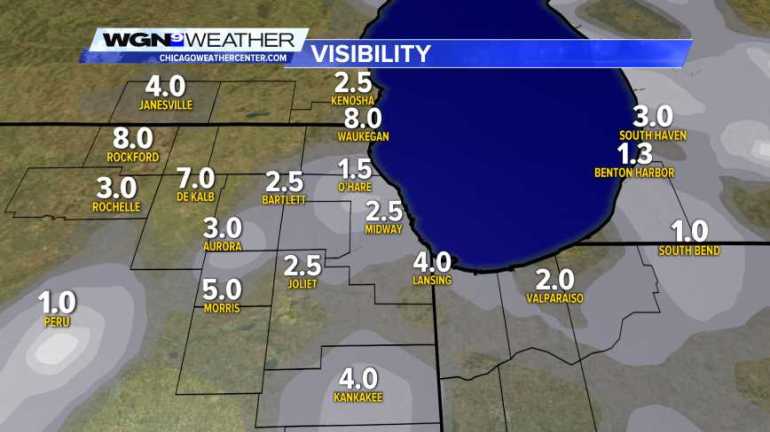 For the latest updates go to Chicago Weather Center