This is an archived article and the information in the article may be outdated. Please look at the time stamp on the story to see when it was last updated.
BEECHER, Ill, — The tight knit community of Beecher is reeling from tragedy.
29-year-old Lindsey Schmidt was pregnant and taking her children to vacation bible school when she was killed Monday morning in a crash that also took the life of her 1-year-old son Kaleb. 4-year-old Weston died Tuesday.
Residents gathered last night for a vigil praying that 6-year-old Owen would pull through, but word came today he also died.
Eddie Schmidt will now bury his wife and three children.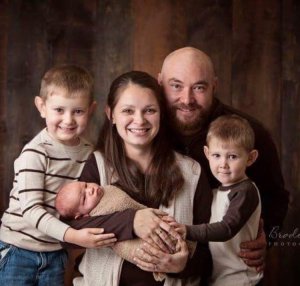 "Everybody is going to do everything possible to help get through this, so the scriptures tell us," said Pastor Ron Rock of Zion Lutheran Church.
Charges are pending against the driver of the pickup truck that blew through a stop sign and slammed into the family's Subaru.
There is a growing memorial at the crash site as the community expresses heartbreak and sadness.
Lindsey's cousin says their family is asking for privacy while they try to get through this but they're thankful for the overwhelming support.
L & H services specializes in heating, cooling and plumbing. The owners' kids wanted to do something for the family. So they made a makeshift concession stand.  Every dollar they earn is going to the Schmidt family.
10-year-old Caroline Hameister said, "We started this before we even knew what happened.  We just wanted to do it for fun.  Then this came along and our heart dropped and we wanted to help their family."
"It's Beecher. It's a small town, it is what we do. Everybody's there for everybody," said L& H owner Mike Hameister.
Funeral arrangements have not been made yet. Beecher residents are trying to raise money for the Schmidt family and donations can be dropped off at first Community Bank and Trust in Beecher and Peotone.