This is an archived article and the information in the article may be outdated. Please look at the time stamp on the story to see when it was last updated.
Two sisters took it into their own hands to help save a group of students from a burning school bus Wednesday in Copiah County, Miss.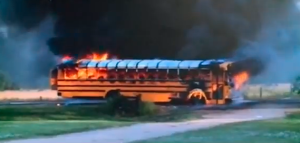 According to WAPT, Bettye Windom and Beth Insley noticed smoke coming out of the bus, and they tried to flag it down. It took about a mile of honking and screaming before they hit their brakes in front of the bus to get the driver's attention.
The driver tried to put out the flames as the three other adults on the bus helped the 22 students out the back.
One girl hurt her shoulder as she escaped, but no other injuries were reported as everyone safely exited before the vehicle burst into flames.
See WAPT's report for more on the story.