This is an archived article and the information in the article may be outdated. Please look at the time stamp on the story to see when it was last updated.
Severe storms moved through the Chicago area Saturday night, knocking down trees and causing damage in several suburbs.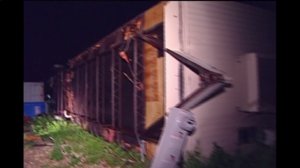 In far Northwest suburban Hampshire, winds topping 50 miles-an-hour flipped over a construction trailer.
A woman was inside of that trailer at the time and was rescued by several people who were nearby.
She was taken to the hospital for injuries.
That same line of storms knocked down several trees and fences in Huntley.
There were reports of baseball-sized hail.
The storms knocked out power to thousands of ComEd customers throughout the region.