This is an archived article and the information in the article may be outdated. Please look at the time stamp on the story to see when it was last updated.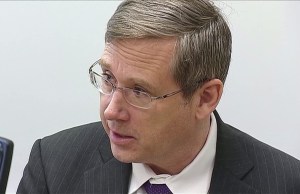 By Kim Geiger, Tribune reporter
Sen. Mark Kirk, R-Ill, is recovering from gall bladder surgery after stomach pains sent him to the hospital on Saturday, his office said in a statement.
Kirk's gall bladder was successfully removed and he "is resting comfortably," according to the statement.
Kirk went to Northwestern Lake Forest Hospital on Saturday morning with stomach pains. Doctors determined that because he had gall stones, his gall bladder needed to be removed. He underwent a "successful" surgery on Monday morning, the statement said.
"His doctor expects a quick recovery," the statement said.
Kirk suffered a stroke in January 2012 and initially sought medical help at Lake Forest Hospital before being transferred to Northwestern Memorial Hospital. The stroke kept Kirk from the Senate in 2012 but he returned to earlier this year and last month delivered his first post-stroke speech on the Senate floor.