This is an archived article and the information in the article may be outdated. Please look at the time stamp on the story to see when it was last updated.
Senator Dick Durbin, (D – Illinois) held a news conference Friday morning at the Metcalfe Federal Building in the Loop to discuss gun violence legislation he co-sponsored in the Senate this week to combat gun violence in Illinois and across the country.
He was joined by Chicago Police Superintendent Garry McCarthy.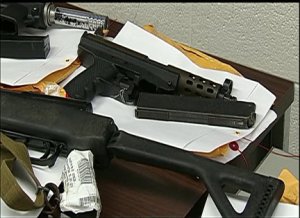 Senator Durbin talked about two bills he co-sponsored. The first bill, the Stop Illegal Trafficking of 2013, Durbin co-sponsored with Senator Pat Leahy, (D – Vermont). It provides law enforcement with the tools to crack down on the practice of "straw purchasing."
Senator Durbin said, "Time after time we've seen criminals and gang members use these straw purchasers and girlfriends and you name it to walk into a gun store and make a purchase they couldn't legally make under the law. This is gun trafficking. It feeds the criminal gun market as the superintendent can attest and it has to stop."
Superintendent McCarthy added, "Without some sort of accountability in those gun laws, without some sort of reasonable method of recording where those guns are, we're never going to be able to stem the flow of those illegal firearms reaching our streets."
The second bill Senator Durbin co-sponsored, , the Assault Weapons Ban of 2013, bans the manufacture and sale of military-style assault weapons and high-capacity ammunition magazines.