This is an archived article and the information in the article may be outdated. Please look at the time stamp on the story to see when it was last updated.
Two men were killed in a crash on Lake Shore Drive early Friday morning when their vehicle was struck by a wrong way driver. An off-duty North Chicago police officer has been arrested in connection with the crash and Chicago police say alcohol is believed to be a factor.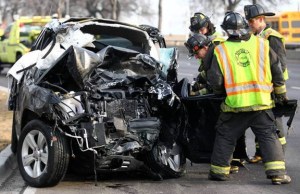 The mayor of North Chicago in a statement identifies that off duty officer as Terrell Garrett.
The crash occurred around 4:00 a.m.  The driver was in a silver SUV and got on Lake Shore Drive near LaSalle. He was heading northbound in the southbound lanes.
The car hit a Toyota near Belmont first, injuring the woman driving that car.  Then, the car slammed into a jeep killing the two men inside.
The medical examiner's office identified those men as Fabian Torres, 27-years-old and Joaquin Garcia, who was 25.
The wrong way driver is hospitalized with a fractured hip.  He was going an estimated 60-miles-per-hour at the time of the crash.
Morning rush hour traffic on lake shore drive came to a halt for hours during the investigation .
This is more troubling news for the embattled North Chicago Police Department.  The off duty officer has not been charged as of yet.
He is being treated at Advocate Illinois Masonic Medical Center and has been placed on administrative leave, pending the outcome of this investigation.