This is an archived article and the information in the article may be outdated. Please look at the time stamp on the story to see when it was last updated.
By Laura Smith-Spark and Michael Holmes, CNN
The Kremlin is threatening to hit back if the European Union levies sanctions against Russia over its actions in Ukraine.
Russian lawmakers are drafting a law that will allow Russia to confiscate assets belonging to U.S. and European companies if it faces sanctions.
Andrei Klishas, a senior lawmaker in the upper house, said the bill "would offer the president and government opportunities to defend our sovereignty from threats," state news agency RIA Novosti reported.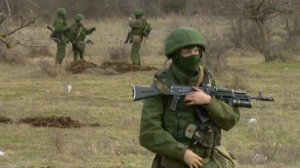 The tit-for-tat threats are the latest in a war of words over Russia's military intervention in Ukraine's southern Crimea region.
Russian forces remain in effective control of the Black Sea peninsula, in a tense standoff with Ukrainian forces loyal to the new interim government in Kiev.
French Foreign Minister Laurent Fabius warned Wednesday on Twitter that possible sanctions will be on the agenda when EU leaders meet Thursday.
"The invasion of one country into another is contrary to all international laws. We must return to dialogue and to bear in mind that Ukraine should work with Russia and the EU," he said.
"We cannot accept, we members of the international community, a country that invades another."
It comes after a day of strong words Tuesday, when a defiant Russian President Vladimir Putin denied Russian troops were in Crimea but reserved the right to take military action to protect the safety of ethnic Russians in eastern Ukraine.
He also slammed the interim government, which replaced ousted Ukrainian President Viktor Yanukovych, a Russian ally, as illegitimate.
Diplomatic efforts
As the high-stakes showdown in the Russian-majority Crimea region continues, diplomatic efforts to end the crisis continue.
U.S. Secretary of State John Kerry, UK Foreign Secretary William Hague and Ukrainian Foreign Minister Andrii Deshchytsia discussed their next steps in Paris Wednesday, ahead of the expected arrival of their Russian counterpart Sergey Lavrov in the French capital.
It's not yet clear whether Lavrov will agree to talks involving Ukraine. But Hague promised "every diplomatic effort" to bring Russia and Ukraine into the same room.
Hague said on Twitter that there was "strong unity there must be costs for Russia if they don't de-escalate."
Kerry reminded Moscow that it had, like Washington and London, signed an agreement in 1994, when Ukraine agreed to give up nuclear weapons, "to refrain from the threat or use of force against the territorial integrity or political independence of Ukraine."
This means there are "very clear legal obligations that are at risk in this," he said.
On Tuesday, Kerry accused Russia of making up reasons for intervention in Ukraine, saying "not a single piece of credible evidence supports any one of these claims."
NATO members are set to meet with Russia's ambassador to the alliance Wednesday, amid concerns that the crisis could spread, and Swedish Foreign Minister Carl Bildt will meet with his Danish and Norwegian counterparts in Ukraine's capital, Kiev, he said on Twitter.
EU Commission President Jose Manuel Barroso announced in Brussels Wednesday the EU would would offer an aid package worth 11 billion euro to Ukraine. He said the package was "designed to assist a committed, inclusive and reforms oriented" Ukrainian government.
Barroso confirmed on Twitter that the aid package would consist "of immediate short and medium term measures offering trade, economic, technical and financial assistance to #Ukraine."
During his visit to Kie Tuesday, Kerry announced the United States will give Ukraine's new government a $1 billion loan guarantee. Senior U.S. administration officials told CNN this would help insulate the Ukrainian economy from the effects of reduced energy subsidies from Russia.
Lavrov: Military coup in Ukraine
Lavrov, speaking in Madrid Wednesday morning, echoed the words of Russia's President a day earlier.
He said the crisis had begun when the international community failed to react to the anti-government protests that preceded Yanukovych's ouster.
"There was a military coup and the legitimate president was removed by methods which were not in the constitution or legislation," Lavrov said.
"If we are so lenient to the people who are trying to govern our neighbor, everyone must realize a bad example can be spread and there shouldn't be any double standards."
Lavrov repeated Putin's denial that Russian troops are in control in Crimea, saying that the troops in question are "self-defense" forces over whom Russia has no control.
Decisions on whether international observers should be sent into Ukraine are for leaders in the country to make, he said. He pointed out that the newly installed pro-Russian government in Crimea does not see the authorities in Kiev as legitimate.
"This problem is multi-faceted. In order to calm the situation down everyone must act in accordance with the law," he said.
Stability fears
Tuesday's diplomatic efforts bore little fruit. But some observers saw a positive sign in Putin ordering Russian troops who were on mass military exercises close to the border with Ukraine back to their bases.
No violence has yet erupted in Crimea, where Russian troops currently control military bases and key installations, but tensions are high.
Warning shots were fired by the Russia side during a confrontation at a military base near the port of Sevastopol Tuesday with Ukrainian forces. That situation was defused but the region remains volatile.
German Chancellor Angela Merkel is trying to construct what a senior U.S. administration official characterized as an "off-ramp" for Putin by having international observers in Crimea to ensure ethnic Russians' rights aren't violated.
President Barack Obama floated this idea in a call Saturday with Putin, and he and Merkel talked about it Tuesday.
NATO Secretary General Anders Fogh Rasmussen said Tuesday that despite repeated calls by the international community, "Russia continues to violate Ukraine's sovereignty and territorial integrity and continues to violate its international commitments."
The developments represent serious implications for the security and stability for the Euro-Atlantic area, he said.
CNN's Michael Holmes reported in Kiev and Laura Smith-Spark wrote in London. CNN's Khushbu Shah, Neda Farshbaf, Damien Ward and Larry Register contributed to this report.