This is an archived article and the information in the article may be outdated. Please look at the time stamp on the story to see when it was last updated.
(CNN) – The Russian military has stopped airstrikes in certain parts of Syria as part of a cessation of hostilities agreement, state media reported Saturday.
Russia has stopped attacks on armed groups included in the temporary truce, defense ministry official Sergei Rudskoi said.
Despite Russia's pledge, reports of scattered violence between militants and some rebel groups emerged.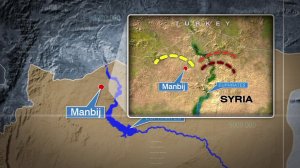 Terrorist groups involved in the clashes, including ISIS and al Qaeda-linked al-Nusra Front, are not part of the truce agreement.
The London-based Syrian Observatory for Human Rights reported the incidents of violence, but said things are quieter in general.
It reported clashes between regime forces and rebels in Latakia, and other incidents of violence between government forces and ISIS fighters in Aleppo.
In Latakia, 12 rebel fighters were killed in clashes with government forces, according to the observatory.
ISIS fighters also clashed with other rebel groups in Aleppo and Homs, the observatory said.
Nevertheless, initial indications showed violence was significantly reduced — a relief to Syrians living in the rubble of bombed-out cities.
U.N. special envoy Staffan De Mistura said reports indicated "suddenly both Daraa and Damascus had calmed down."
An unusual quiet has descended on major cities in Syria, said Rami Abdulrahman, director of the SOHR. He did note there were brief exceptions, including some unexplained explosions reported in the north.
But nobody expects peace to settle over the nation overnight, De Mistura said.
If there are violations, he said, "the important point that we need to see is that if those incidents will be quickly brought under control and contained."
Another Syria task force meeting will take place Saturday afternoon in Geneva to assess whether the truce is being respected, De Mistura said.
The cessation of hostilities is considered by some to be the most hopeful sign in years that fighting in the nation, where the conflict has killed at least 250,000 people, will subside.
Earlier Friday, the U.N. Security Council voted unanimously in favor of a resolution backing the halt in fighting and asking for all parties to abide by the terms of the cessation.
A main Syrian opposition group, the High Negotiations Committee, said 97 of its factions agreed to respect the two-week truce that starts with the cessation of hostilities. But it warned the government and Russia not to target it under the pretense of attacking terrorist groups such as ISIS and al-Nusra Front.