This is an archived article and the information in the article may be outdated. Please look at the time stamp on the story to see when it was last updated.
Russia tightened its grip around Ukraine's eastern Crimean region Monday, drawing condemnation from Western nations and heightening fears of war.
Moscow's G8 partners have condemned its military buildup in the country, demanding that it withdraw. Ukraine's new leaders accused Moscow of declaring war, and Russian Prime Minister Dmitry Medvedev warned that blood could be spilled amid growing instability in the neighboring nation.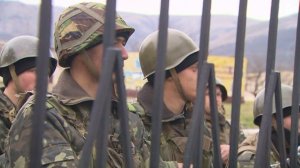 Ukraine's shaky new government has mobilized troops and called up military reservists as officials say signs of Russian military intervention in Ukraine's Crimean Peninsula — an autonomous region of eastern Ukraine with strong loyalty to Russia — are clear.
Speaking at a visit to Switzerland on Monday, Russian Foreign Minister Sergey Lavrov, who spoke with his Chinese counterpart Monday about the crisis, accused Ukraine's new authorities — in place since President Viktor Yanukovych was ousted last week — of attacking minorities and violating human rights.
"The opposition … has fulfilled nothing," Russian state news agency ITAR Tass quoted Lavrov as saying. "Illegal weapons have not been handed in, administrative buildings and streets in Kiev have not been fully freed, and radicals continue to control the capital."
A senior U.S. administration official told CNN on Sunday that Russian forces "have complete operational control of the Crimean Peninsula." The official said the U.S. estimates there are 6,000 Russian ground and naval forces in the region.
"There is no question that they are in an occupation position — flying in reinforcements and settling in," another senior administration official said.
Camouflaged and unidentified
Ukrainian border guards on Monday reported a buildup of armored vehicles on the Russian side of a narrow sea channel dividing Russia and Crimea, Reuters reported, citing a border guard spokesman.
He said that Russian ships had been moving in and around the port city of Sevastopol, where the Russian Black Sea Fleet has a base, and that Russian forces had blocked mobile telephone service in some areas. The buildup of Russian armor was near a ferry port on the Russian side of the Kerch Channel, opposite the Ukrainian city of Kerch.
Meanwhile, The Ukrainian State Border Security Service said there had been several attacks on border posts in eastern Crimea just along the border with Russia.
In a statement on its website, it said men, wearing unidentified camouflage uniforms, were carrying out the attacks, such as one on the Kerch border post, where doors and windows were broken and phone lines were destroyed late Sunday.
Also on Sunday night, armed men in unidentified camouflage uniforms tried to enter the arms depot in Ukraine's Belbek military base near Sevastopol, a Defense Ministry spokesman said.
Ukrainian forces at the base shot into the air to warn them off, but the unidentified men used sound grenades, and one of the Ukrainian commanders was wounded as a result, Vladislav Seleznev, the Ukrainian Defense Ministry spokesman in Crimea, told CNN.
The attackers gained access to the base, but Ukrainian troops retain control of the weapons depot and administration building. Seleznev added there have been negotiations.
Men dressed in both civilian and camouflage gear and wearing red armbands have been seen on the streets of the regional capital, Simferopol.
Navy defector seeks allies
Ten Ukrainian military and naval bases in Crimea are currently blocked by armed men, the newly appointed naval commander of Ukraine, Rear Admiral Serhei Gayduk, told a Ukrainian TV station by phone.
His predecessor, Denis Berezovsky, who on Sunday said he would not submit to orders from Kiev and defected, was said to have entered the Ukrainian naval base in Crimea on Monday under the protection of a group of Cossacks and tried to convince other Ukrainian officers to defect.
However, Gayduk was at the base and urged officers to maintain their allegiance to Ukraine, the Defense Ministry's Seleznev told CNN. Troops responded by singing the Ukrainian national anthem.
These scenes come after Russian President Vladimir Putin secured permission from his parliament Saturday to use military force to protect Russian citizens in Ukraine and told U.S. President Barack Obama he had the right to defend Russian interests and nationals, spurning Western pleas not to intervene.
In a post on his official Facebook page Monday, Medvedev called Yanukovych's ouster a "seizure of power."
"Such a state of order will be extremely unstable," he said. "It will end with the new revolution. With new blood."
Worried West
The tensions have worried the West, and on Sunday, Russia's G8 partners condemned Moscow's military buildup in Crimea.
The world's seven major industrialized powers also suspended preparations for the G8 summit in Sochi, Russia, in June.
Their finance ministers announced some economic support for cash-strapped Ukraine, in a boost for the country's West-leaning new government.
"We are also committed to mobilize rapid technical assistance to support Ukraine in addressing its macroeconomic, regulatory, and anti-corruption challenges," G7 finance ministers said in a prepared statement, adding that an International Monetary Fund team was due to travel to Kiev this week.
U.S. Secretary of State John Kerry is also scheduled to travel to Kiev. He has condemned what he called Russia's "incredible act of aggression" and said several foreign powers are looking at economic consequences if Russia does not withdraw its forces.
British Foreign Secretary William Hague is currently in Kiev, where he visited the central Independence Square, cradle of the three-month protests that ousted Yanukovych, and lay flowers for those who died in clashes between demonstrators and riot police.
U.N. Secretary-General Ban Ki-moon has also dispatched an envoy. "It is now of the utmost importance to install calm and de-escalate tensions immediately through dialogue," he said at a news conference, adding that he would meet Lavrov later Monday.
He urged "that the Russian Federation refrain from any acts and rhetoric that can further escalate the situation and instead engage constructively and through peaceful means with Ukraine."
German Chancellor Angela Merkel's office said Putin had accepted a proposal to establish a "fact-finding mission" to Ukraine, possibly under the leadership of the Organization for Security and Co-operation in Europe, and to start a political dialogue.
East vs. West
Ukraine, a nation of 45 million people sandwiched between Europe and Russia's southwestern border, has been in chaos since Yanukovych was ousted on February 22 after bloody street protests that left dozens dead and hundreds wounded.
Anti-government demonstrations started in late November, when Yanukovych spurned a deal with the EU, favoring closer ties with Moscow instead.
Ukraine has faced a deepening split, with those in the west generally supporting the interim government and its European Union tilt, while many in the east prefer a Ukraine where Russia casts a long shadow.
Nowhere is that feeling more intense than in Crimea, the last big bastion of opposition to the new political leadership. Ukraine suspects Russia of fomenting tension in the autonomous region that might escalate into a bid for separation by its Russian majority.
Ukrainian leaders and commentators have compared events in Crimea to what happened in Georgia in 2008. Then, cross-border tensions with Russia exploded into a five-day conflict that saw Russian tanks and troops pour into the breakaway territories of South Ossetia and Abkhazia, as well as Georgian cities. Russia and Georgia each blamed the other for starting the conflict.
The crisis has hit Russian stock markets, with Moscow's main MICEX index opening about 8% lower Monday. The central bank hiked interest rates to 7% from 5.5%.
CNN's Alla Eshchenko in Moscow, Rob North in London, Neda Farshbaf in Atlanta, Dominique Van Heerden and journalist Azad Safarov in Kiev contributed to this report.
 TM & © 2013 Cable News Network, Inc., a Time Warner Company. All rights reserved.