This is an archived article and the information in the article may be outdated. Please look at the time stamp on the story to see when it was last updated.
The apartment building in Chicago where President Ronald Reagan lived as a child is being demolished.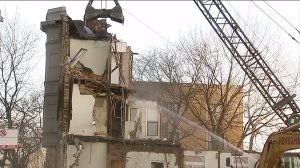 Crews are removing debris from the building in the 800 block of East 57th Street.
Reagan lived in the apartment in Hyde Park with his parents in 1914 and '15.
The University of Chicago bought the property almost ten years ago, but there are no immediate plans to build on it.
The university will install a plaque to commemorate President Reagan's connection to the site.