This is an archived article and the information in the article may be outdated. Please look at the time stamp on the story to see when it was last updated.
CHICAGO — A 73-year-old Rogers Park man shot in the head Sunday morning was killed as he walked his dogs, according to neighbors, in what police are investigating as a possible robbery turned fatal.
Lynda Kaplan said she heard a gunshot around 10 a.m. Sunday before finding 73-year-old Douglass Watts, her neighbor from across the hallway, face-down on the street near their building on the 1400 block of West Sherwin.
"I later came out to find my neighbor of five years face down in the middle of the street dead. He was out walking his dogs, and he was shot execution-style," Kaplan said. "It was a senseless murder."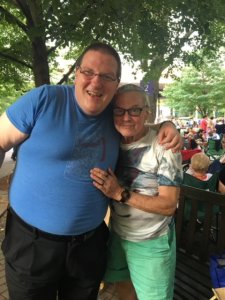 Afterwards, Kaplan said she went with a detective to inform Watts' mother-in-law, who lives with him as well.
"We went upstairs to break the news to her that her son-in-law has been murdered in front of the building," Kaplan said.
Alderman Joe Moore says police believe surveillance cameras may have captured the shooting, which happened in front of witnesses.
"It's horrible; it's not something that's a common occurrence in our neighborhood, and it's an absolute shock that it occurred in broad daylight," Ald. Moore said.
Kaplan said the building manager was pulling up in his car when the shooting occurred, and saw the suspect.
"They looked at each other; he apparently had a ninja mask on, a hoodie," Kaplan said.
Police are investigating the crime as a possible armed robbery, but neighbors say Watts had an iPhone on him that wasn't stolen. Those who live in this neighborhood are hoping for a quick arrest.
"There are a lot of good leads and hopefully we can have enough information to apprehend the person who did this horrible deed," Ald. Moore said.