This is an archived article and the information in the article may be outdated. Please look at the time stamp on the story to see when it was last updated.
The 5th Annual Rock and Roll Half Marathon kicks off at 6:30 a.m. Sunday morning in Grant Park.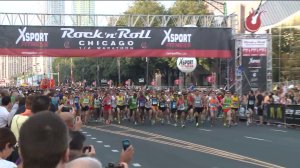 More than 20,000 people are expected to gather at Columbus Drive and Monroe Street, from casual runners to world-class athletes.
The course, which is just over 13 miles, tours the downtown area.
It features local bands performing live at each mile mark.
There's also a mini-run that's a little over three miles.
The half-marathon finishes in Grant Park with a festival and concert featuring indie rock band, Walk Off the Earth.