This is an archived article and the information in the article may be outdated. Please look at the time stamp on the story to see when it was last updated.
One of the top Democrats in the 2nd Congressional District Race to replace Jesse Jackson Jr., is defending herself over an ethics investigation.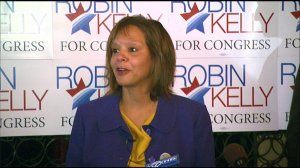 Robin Kelly was asked if she misreported hours she worked while serving as Chief of Staff for Treasurer Alexi Giannoulias in 2010.
At the time, Kelly was also campaigning to fill the Treasurer's position.
Kelly confirms that the Treasurer's Inspector General recommended that she be suspended for timekeeping discrepancies.
But, she also says, the findings were not true.