This is an archived article and the information in the article may be outdated. Please look at the time stamp on the story to see when it was last updated.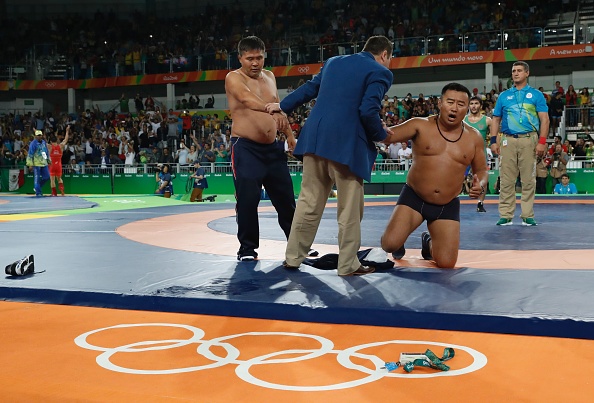 RIO DE JANEIRO —Two Mongolian wrestling coaches have taken off their clothing, one all the way down his underwear, to protest the result of a bronze medal match.
Uzbekisatn's Ikhtiyor Navruzov appeared to have lost to Mandakhnaran Ganzorig 7-6 at 65 kilograms on Sunday.
Uzbekistan challenged the scoring, likely because the Mongolian began running around in celebration with less than 10 seconds left rather than engaging with Navruzov.
Navruzov won his challenge and the match on criteria as the last wrestler to score.
Ganzorig, who had already started celebrating, fell to his knees in disappointment.
The Mongolian coaches went much further than that.
Byambarenchin Bayoraa took his shoes and shirt off and threw them to the mat in disgust in front of the officials.
Tsenrenbataar Tsostbayar stripped all the way down to his blue briefs. The Brazilian crowd started chanting "Mongolia! Mongolia!"