This is an archived article and the information in the article may be outdated. Please look at the time stamp on the story to see when it was last updated.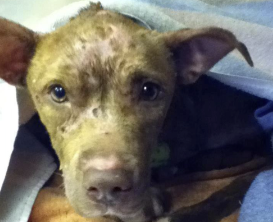 A reward is being offered for anyone with information leading to the person or people responsible in the vicious death of a pit bull in eastern Will County.
You may remember the story of Petunia in March. She was the pregnant pit bull found wandering the streets of Park Forest with fractured teeth and devastating burns on her body.
Veterinarians determined she had been hit by a car, and before that, gruesomely beaten and set on fire.
Petunia eventually did not survive her injuries, but gave birth to 10 puppies. Five of them were stillborn and two puppies later died. The three other puppies are doing well.
Anyone with information about the attack on Petunia can call the Cook County Sheriff's Animal Crimes Unit at 708-865-4840.
The It's A Pittie Rescue group is offering a $4,000 reward for information leading to an arrest and conviction.
The group says all information will be kept private and confidential.
MORE INFORMATION: Flyer from It's A Pittie Rescue: Justice for Mama Petunia