This is an archived article and the information in the article may be outdated. Please look at the time stamp on the story to see when it was last updated.
One of Chicago's longest-serving alderman talked Friday about why he's hanging it up.
33rd Ward Ald. Dick Mell  is retiring after 38 years in office.
Mell is also 33rd Ward Democratic Committeemen,  a job he plans to keep.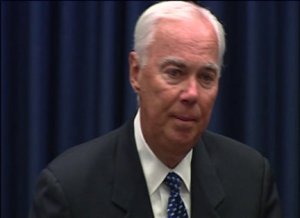 Mell told reporters at City Hall he's been lucky in his career.  But his biggest disappointments were the loss of his wife, Marge, in 2006 to Progressive supranuclear palsy, and the conviction of his son-in-law, former Illinois Governor Rod Blagojevich.
Mell's last day on the job is July 24.
Mayor Rahm Emanuel will name a replacement, but it's widely expected that the job will go to Mell's daughter,  State Rep. Deborah Mell.