This is an archived article and the information in the article may be outdated. Please look at the time stamp on the story to see when it was last updated.
CHICAGO — Four people were killed, including a doctor, a first-year pharmacy resident and a Chicago police officer, after an active shooter incident at a South Side hospital Monday.
Chicago police responded to the scene at Mercy Hospital and Medical Center at 2525 S. Michigan Ave. for reports of shots fired just before 3:30 p.m. Monday. The incident started with gunfire in the parking lot before moving into the hospital.
The gunman was killed, but it was unclear whether he died from a self-inflicted gunshot wound or gunfire from responding officers. The gunman has been identified as 32-year-old Juan Lopez of Chicago.
The officer was initially in critical condition but later died, according to CPD spokesman Anthony Guglielmi. The officer, identified as Samuel Jimenez, was 28 years old and had just completed his probationary period. Jimenez left behind a wife and four children.
An ER doctor, identified as Tamara O'Neal, and a pharmacy resident identified as 25-year-old Dayna Less, were also killed in the shooting. O'Neal was believed to be the intended target of the shooting; the gunman was her 32-year-old former fiancé.
A friend said she remembered O'Neal as someone who had a big heart. She was one year out of her medical residency, and her family said she was very involved in her church and actively volunteered at school clinics.
Less had just graduated from Purdue University.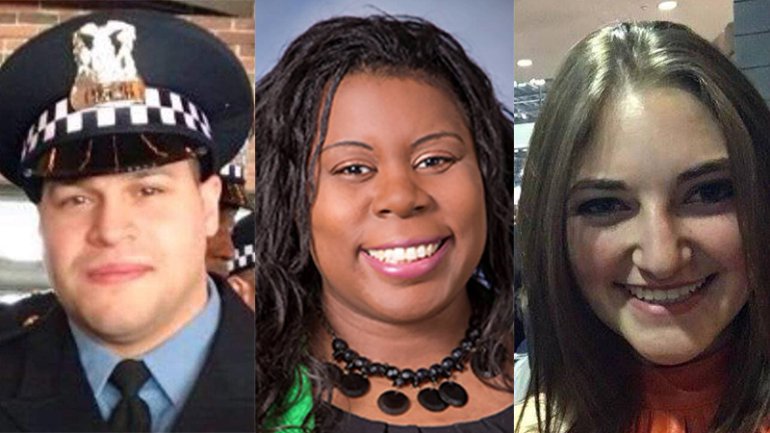 Eyewitness: 'She asked us not to leave her alone'
An eyewitness sitting in a van full of nursing home patients watched in horror as the incident unfolded. The witness, who asked to not be identified, said the nursing home patients were in the parking lot of Mercy Hospital when a woman ran from the hospital and asked for help.
"She got on the phone and she was trying to call the police," the witness said. "She asked us not to leave her alone because he is going to kill her."
The witness said a man approached and demanded the woman give him a ring. The woman replied that she didn't have it. She started going back toward the hospital to get security guards, the witness said, when the man reemerged with a gun.
"The guy comes really quickly from behind the van and just pulls out a gun and shoots her six times before she even hits the ground," the witness said.
The van drove off and headed toward the exit just as police were entering the parking lot.
"He started firing in our direction and at the cops," the witness said.
Another witness, who said she worked at the 2600 South Michigan Avenue building, heard five shots. She went to a window and saw someone running into the hospital. She said she saw officers shooting back and forth.
"The police came from everywhere," she said. "I mean, within seconds they were just surrounding the hospital — firefighters and ambulances, everything, they were just surrounding the hospital. The person was there right, shooting. They were behind the cars, protecting themselves, and at that point I just said, 'You know what, I don't know where this person is, I don't know if they've come out or if they're still in there,' so we got away from the windows."
Maria Teo, a nurse at the hospital who was registering a patient when the incident started, said just one month ago, she underwent active shooter training. She said no matter how much training you get, you will never be prepared for the real thing.
"I was texting, I called my mom, whispered to her the situation. She didn't wanna believe it," Teo said. "I texted my family and all I thought about was my kids. My daughter asked me if I was okay, and all I said was 'I love you,' and she was like, 'I know something is wrong.' I'm like, 'I'm OK, I'll text you, I just can't talk to you right now, but I'll keep texting you.'"
A police procession was held for the fallen officer.
WATCH: Chicago police procession for Officer Samuel Jimenez
CHICAGO, IL - NOVEMBER 19: Emergency vehicles sit outside Mercy Hospital where a gunman shot multiple people on November 19, 2018 in Chicago, Illinois. Five people were shot including a police officer and the gunman. (Photo by Joshua Lott/Getty Images)

CHICAGO, IL - NOVEMBER 19: Police officers stand at one of the entrances at Mercy Hospital after a gunman shot multiple people on November 19, 2018 in Chicago, Illinois. Five people were shot including a police officer and the gunman. (Photo by Joshua Lott/Getty Images)

CHICAGO, IL - NOVEMBER 19: Police officers stand outside Mercy Hospital after a gunman shot multiple people on November 19, 2018 in Chicago, Illinois. Five people were shot including a police officer and the gunman. (Photo by Joshua Lott/Getty Images)

CHICAGO, IL - NOVEMBER 19: Police officers stand outside Mercy Hospital where a gunman shot multiple people on November 19, 2018 in Chicago, Illinois. Five people were shot including a police officer and the gunman. (Photo by Joshua Lott/Getty Images)

CHICAGO, IL - NOVEMBER 19: Police secure the scene near Mercy Hospital after a gunman opened fire on November 19, 2018 in Chicago, Illinois. The gunman is reportedly dead after shooting at least three people including a police officer. (Photo by Scott Olson/Getty Images)

CHICAGO, IL - NOVEMBER 19: Police secure the scene near Mercy Hospital after a gunman opened fire on November 19, 2018 in Chicago, Illinois. The gunman is reportedly dead after shooting at least three people including a police officer. (Photo by Scott Olson/Getty Images)

CHICAGO, IL - NOVEMBER 19: People believed to be Mercy Hospital workers wait on city buses outside after a gunman opened fire at Mercy Hospital on November 19, 2018 in Chicago, Illinois. The gunman is reportedly dead after shooting at least three people including a police officer. (Photo by Scott Olson/Getty Images)

CHICAGO, IL - NOVEMBER 19: Police secure an area around Mercy Hospital after a gunman opened fire on November 19, 2018 in Chicago, Illinois. A police officer, the gunman and at least two hospital workers were killed during the incident. (Photo by Scott Olson/Getty Images)
WATCH: Chicago police give update after fatal shooting