This is an archived article and the information in the article may be outdated. Please look at the time stamp on the story to see when it was last updated.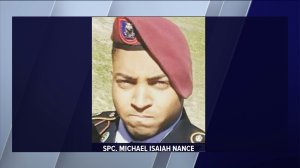 CHICAGO —The remains of a Chicago-area soldier killed in Afghanistan have now been returned home
Military personnel lined the runway at Midway Airport as the body of Army Specialist Michael Nance, 24,  arrived around noon.
His family, including mother Shawn Gregoire, looked on and as the casket unloaded Gregoire embrace  it in tears.
Spencer Leak Jr of Leak and Sons Funeral Home was with the family at the airport.
"They are just a great family," he said. "We've had some good times together as friends. When I heard the news and immediately saw Michael Nance, I knew exactly who it was."
Nance grew up on the city's South Side, then attended high school in the northern suburbs.
Nance was killed two weeks ago when an Afghan soldier opened fire on coalition troops. Nance had just deployed on July 12th as part of Operation Freedom's Sentinel.
Nance was a paratrooper-and part of the 82nd Airborne Division.  He ssigned to the 1-505th parachute infantry regiment as a rifleman.
His body first landed at Dover Air Force base in late July.
Friday, outside Midway Airport, children holding American flags lined the sidewalk alongside firefighters and other veterans. A procession made its way from Midway, to the Dan Ryan and ended at the Leak and Sons Funeral Home where the owners are donating all expenses.
"This is a gentleman that has fought for me, died for me and my son, it is an honor the family has chosen us to serve them," Leak Jr said.