This is an archived article and the information in the article may be outdated. Please look at the time stamp on the story to see when it was last updated.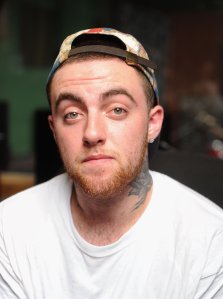 CHICAGO — Rapper Mac Miller has died at the age of 26.
A family statement released through his publicists confirmed Miller died Friday. TMZ is reporting it was a drug overdose and that the rapper was found in a bedroom at his San Fernando Valley home.
Los Angeles police said they responded to a report of a deceased person at a home on the same block where Miller is listed as a resident, but released no other details.
The rapper, whose full name is Malcolm James McCormick, first rose to prominence as a teenager in Pittsburgh with a series of mixtapes released in the mid and late 2000s. As his career progressed, critics noted an expansion in Miller's approach to music to include more singing, more serious themes and dark, dense production. He also became a noted record producer under the name "Larry Fisherman."
Miller's struggles with substance abuse were a frequent topic of his music and tabloid reports on his relationship with singer Ariana Grande, which ended earlier this year.
The rapper was arrested for DUI after a traffic crash last May.
He was set to start a solo tour next month.
Fellow Pittsburgh rapper Wiz Khalifa and other sent their thoughts to Miller and his family shortly after the news broke Friday.
Praying for Mac's family and that he rest easy 🙏🏽👼🏽 #pgh #412

— Wiz Khalifa (@wizkhalifa) September 7, 2018
I dont know what to say Mac Miller took me on my second tour ever. But beyond helping me launch my career he was one of the sweetest guys I ever knew. Great man. I loved him for real. Im completely broken. God bless him.

— Chance The Rapper (@chancetherapper) September 7, 2018
NOOO! I do not wanna believe my brother is dead! I cannot take this anymore, life is too short…I just know you're now in a better place now than this place we call Earth @MacMiller …I love you bro, and will miss youu 😭

— Le'Veon Bell (@LeVeonBell) September 7, 2018
OMG. I was just with you 2 days ago. Wtf??????? We was supposed to shoot your video today!!?! RIP Mac Miller!!!! 😩

— BEN BALLER™ 🧢 (@BENBALLER) September 7, 2018
https://twitter.com/quintabrunson/status/1038163748362510336