This is an archived article and the information in the article may be outdated. Please look at the time stamp on the story to see when it was last updated.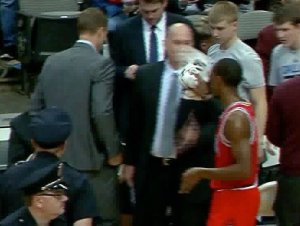 CHICAGO – One of the Bulls' "Three Alphas" earned a first with the franchise in a negative way on Monday.
The team announced that guard Rajon Rondo has been suspended for tonight's game against the Trail Blazers at the United Center for "Conduct Detrimental to the Team."
According to K.C. Johnson of the Chicago Tribune, Rondo's suspension was the result of a heated exchange with associate head coach Jim Boylen.
Johnson also cited one source who said Rondo threw a towel in the direction of Boylen during the game.
A closer look at that specific incident, shows Rondo pump faking but stopping short of actually throwing the towel.
Rondo reportedly apologized to the coaching staff before attending a team charity function last night.
This is the first suspension of Rondo's short Bulls' career. Signed as a free agent in the offseason, Rondo is averaging 8.2 points and 7.2 assists in 17 games this season.